Benjamin Overley, DPM, FACFAS
Benjamin Overley, DPM, FACFAS is accepting new patients.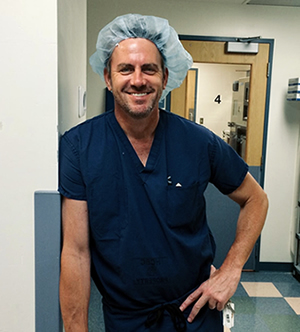 Dr. Overley is a board certified Foot and Ankle surgeon who attended Temple University School of Podiatric Medicine and graduated in 1997, He then completed a 2 year Foot and Ankle Surgical residency with a strong focus in general Orthopedics and Foot/Ankle surgery at Germantown Hospital in Philadelphia, PA. He was a partner at Chestnut Hill Podiatry Associates but in 2006 decided to move closer to his hometown of Reading, Pennsylvania and began practicing in Pottstown, Pennsylvania where he was the Foot and Ankle Specialist for Brandywine Institute of Orthopedics and then PMSI Division of Orthopedics. He then was recruited to practice as the Foot and Ankle Surgeon for Coventry Foot and Ankle Associates as a hospital employed surgeon.
He has completed specialized rotations at Cooper Hospital (Robert Wood Johnson University School of Medicine) in Camden, New Jersey, Liestal Kantonsspital in Liestal, Switzerland and a fellowship in Restorative Orthopaedics and Traumatology in Kurgan, Siberia, Russia.
He is an active Fellow of The American College of Foot and Ankle Surgeons and has served on the editorial board of the Journal of Foot and Ankle Surgery since 2009 as a section editor for Trauma and now as section editor for Ankle Replacement articles that are submitted from around the world. He served as the designer and co-chairman for the ACFAS total Ankle Replacement skills course and remains a faculty member for the course to the present day. He has authored several book chapters on Ankle replacement and Surgical Arthroscopy of the Ankle and holds co-patents on multiple orthopedic implants. He is a local, regional, national and international lecturer on topics of Foot and Ankle Surgery.